Coronavirus information and advice
Letter from the Minister for Local Government, Planning and Housing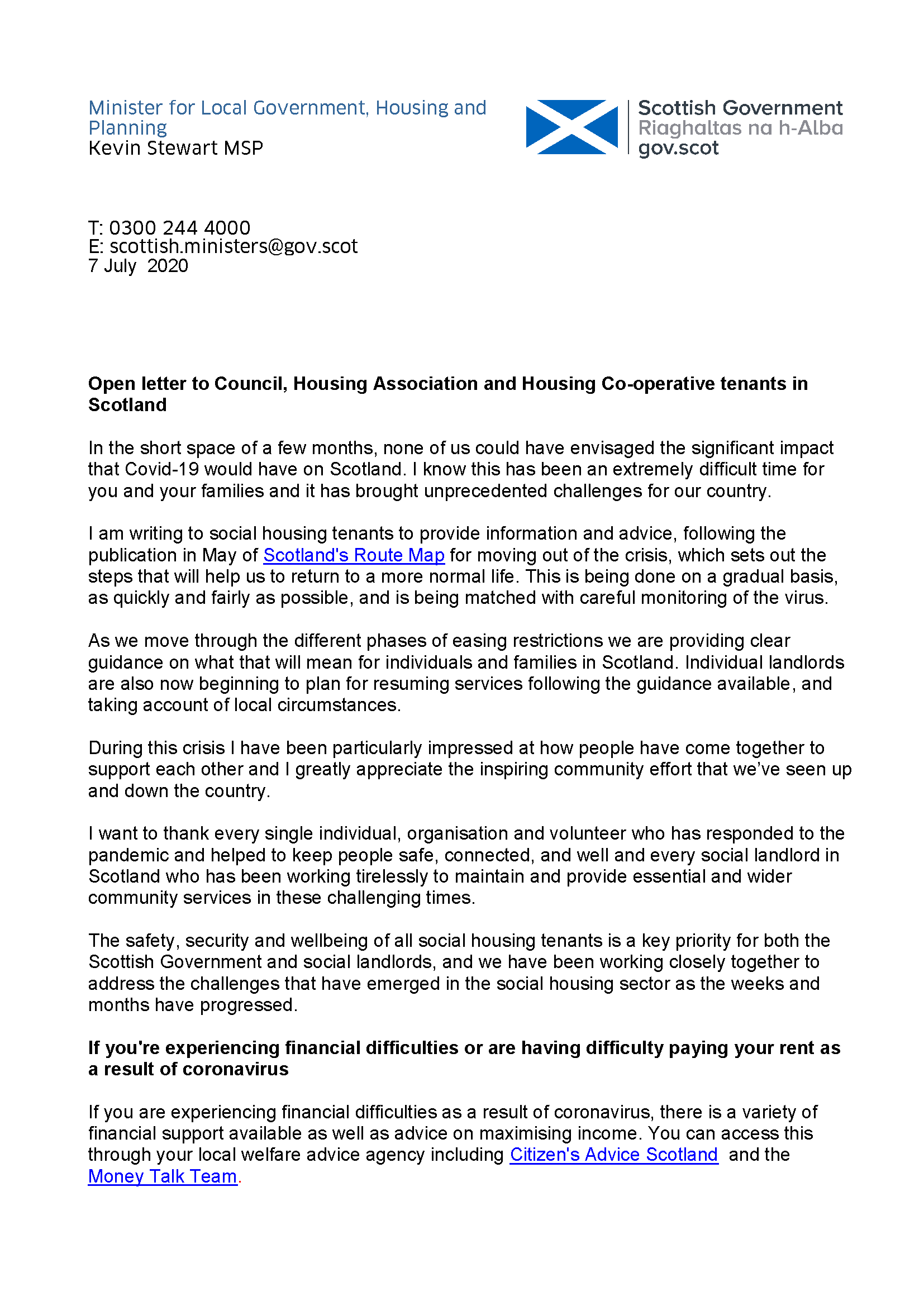 Changes to the Association's service due to the Coronavirus
As you will be aware, the world is facing a major crisis in dealing with the Coronavirus Pandemic. Glen Oaks is having to alter the way that we deliver our service to you because of the Coronavirus. This is to ensure the Health and Safety of our tenants and staff which is our top priority at all times.
Unfortunately, from now until further notice, we are not able to accept callers to our office. Our staff will not be able to visit you at home either.
This is due to the Government's advice that the public need to maintain a distance from one another to help prevent the spread of the virus. Instead, we ask that if you need to contact the Association you do so by telephone, email or online via our website and Tenant Portal. If possible, please also avoid posting letters to us in the meantime as it will take longer than normal for us to reply.
Repair Service
Further to the recent letter sent to Glen Oaks tenants regarding changes to the Association's repairs service due to the Coronavirus outbreak, please be advised that due to recent government advice on non-essential works the repairs service is now limited to emergencies only until further notice. Emergency repairs are limited to items which could cause danger to health, residents' safety, or serious damage and destruction to your property. Examples include:
Significant leaks or floods
Electrical faults which may endanger a building or resident
Full loss of electricity
Blocked drains resulting in back-surge of waste into your home
Making safe broken windows
Security of your home (if lost keys you will be recharged for the repair)
Loss of central heating or hot water (limited to provision of temporary heating only if member of household suffering from symptoms of or self-isolating from the Coronavirus)
Any pre-arranged non-emergency repairs have been cancelled and will be attended to once the worst of the crisis has passed and contractors are able to work as normal. The Right to Repiar Scheme is suspended. Members of the Association's staff are not carrying out any inspection visits for the time being. You can report emergency repairs in the normal way via the Tenant Portal, email or telephone.
Gas Servicing
In accordance with recent guidance from the Health & Safety Executive, the Association will continue with annual gas servicing by heating engineers employed by our gas servicing and maintenance contractor GasSure adopting a safe method of working. However, if your household is affected by Covid-19 or you are self-isolating due to being in an 'at risk' group and you do not wish for a check to be carried out at this time, please let us know and we will carry out the gas check when your period of self-isolation is over. We may need to reschedule your appointment if we need to prioritise emergency work but if we do please be assured that all Glen Oaks Housing Association gas appliances in your home have been well-maintained and serviced regularly, so should continue to work normally.
Paying your Rent
We would advise that you should continue to pay your rent in the normal way. We want to help our tenants get through this crisis as best we can. If you are finding it difficult to pay your rent please contact us. Our staff can also provide advice on Welfare Benefits that may be available to you too.
Supporting our Tenants
goConnect and Starting out are still here to help and are able to signpost our vulnerable tenants to other agencies and charities etc. Keep up to date on their facebook page https://www.facebook.com/goConnectatglenoaks/
Glasgow City Council services
Glasgow City Council have advised the Association that they cannot uplift bulk refuse for the foreseeable future. We would therefore ask tenants not to put bulk rubbish outside until further notice.
We will provide any further service updates on our website, Facebook and Twitter.
For more information on the Coronavirus visit NHSinform.scot