Pay Rent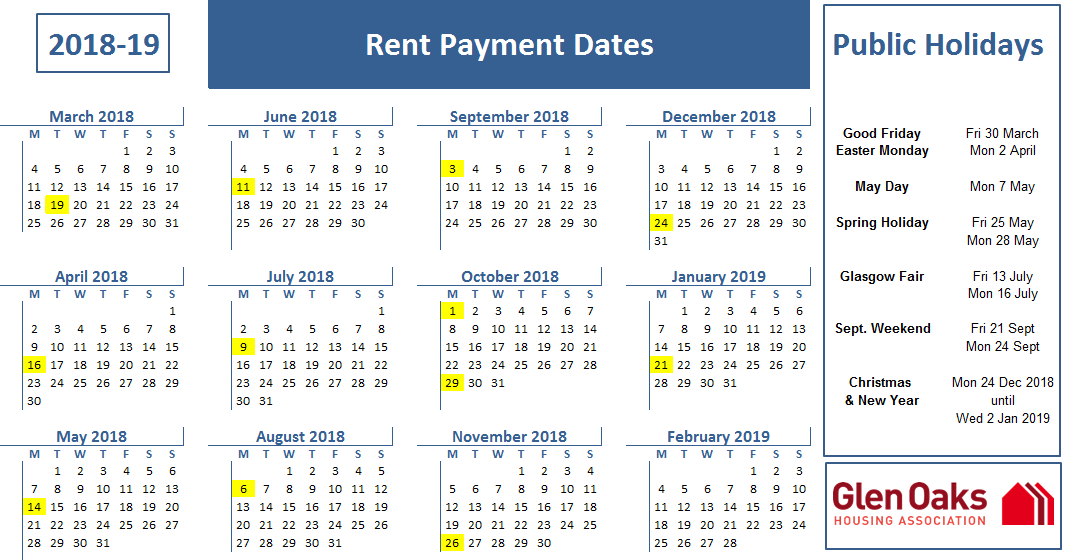 Your rent payments are due every four weeks in advance and we will provide you with a calendar to tell you about the payment days for the year ahead.
The dates for when your rent should be paid are highlighted in yellow.
If you wish to pay your rent monthly, please discuss this with one of our Housing Services Officers or call 0141 638 0999 and press option 1.

We offer a wide variety of payment methods for your convenience.
Pay Online
Make an online payment to your rent by using allpay.
This service is available 24 hours a day, 7 days a week.
Direct Debit
Set up a Direct Debit by contacting our Housing Services Officers.
This is this easiest way of ensuring your rent is always paid on time.
Other Payment Methods
Telephone our office where staff can process a payment by debit or credit card.
Telephone callpay on 0844 557 8321.
Postoffice or payment point outlet - using your rent payment card.
Mobile allpay app - available to download from the Apple app store or Google Pay.
In our office by debit card, credit card or cheque.
Tenant Portal - We can provide you access to our online tenant portal, where you can check the information on your rent account including your balance and a list of your previous payments. Contact us to apply to join, or if you are already a member you can log in to your account now.