Rent Consultation Results
We consulted all of our tenants and sharing owners about our proposals for this year's rent and service charge review.
What did you say?
Overall, we had 190 (14.2%) responses, an improvement on last year's response rate of 182 (13.6%).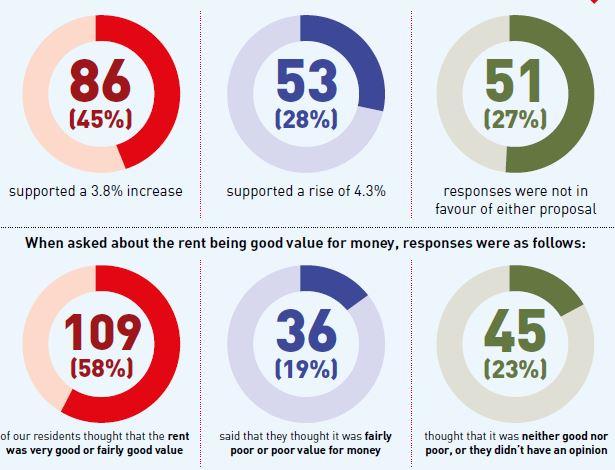 Many tenants commented on the good service they receive, noting they are happy with rent charged. One of the comments was: 'I feel we get a lot for our money - I've rented privately and paid more than double for no services at all'.
There is also an appreciation of the additional activities and supporting services that can be accessed, increasing financial capacity and creating social connections.
There is acknowledgment that the houses are well-maintained, and tenants are also pleased with the window and door renewal in Arden.
How did we consult with you?
We started our consultation process at our Residents Conference in November with a presentation informing those in attendance about the increasing pressure on rental income. We considered what is an affordable rent, reviewed value for money and discussed with our residents what we have achieved in the past year. We then proposed 2 rent increase scenarios comparing our rent levels with other local landlords.
We subsequently used e-mail to contact all tenants who have provided e-mail contact details and we used SurveyMonkey to ask those tenants what they thought about the proposed rent increase. We were particularly pleased with the number of residents who took part in the survey - if you would like to be consulted via email in future please let us know your email address.
We undertook a full postal survey which included a pre-paid return envelope to maximise opportunities to respond.